Does anyone here want to become famous, yet have no talent or brain? So you can't sing, dance, act, write or do anything useful, yet want to become a household name? My suggestion; write for the Daily Mail. In the last week we have seen Liz Jones - who is usually confined to slagging off foreign staff in H & M - become a ratings smash with her hopelessly misjudged piece on Jo Yeates, and then witnessed Melanie Phillips - who can normally be found on a soap-box in speakers corner harping on about 'evil Palestinians' - put Daily Mail's advertising revenue sky-high following her piece about gay penguins brainwashing children (or something. I've tried to erase all memory of that article from my mind). Now, Giles "You know, you love my dad Alan and sister Victoria. I just sort of appeared for no reason. A bit like the bass player in Hanson" Coren wants a bit of the action.
He's written an article (i use the term written VERY loosely) about 'sexism-gate' at Sky TV, and how that when it comes to sexism; Women are far worse than men;
But while Gray has now been sacked, I don't expect that will be the end of the matter. 
We will hear an endless shrieking to 'kick sexism out of football'; a PE teacher will be fired for telling his goalkeeper to 'stop crying like a girl'; and a hapless League One manager will be deported for describing a fight between players as 'handbags at dawn'.
There will be the endless apologies, public soul-searching and self-flagellation. And as usual the rest of us men will be expected to atone as a sex for a couple of remarks by two fat, superannuated fools on the telly, and to grovel for forgiveness with every snivel and cringe of our waking lives.
Not that that's anything new. To be a man in this country is constantly to have to apologise for oneself and to be ever so very careful about every sentence we speak or write which contains any reference at all to members of the opposite sex.
Yeah men get is so rough in this country, where the fuck is our suffragette movement? Where's Emmett Pankhurst? As Brits, we love to moan. Whether or not it's middle class people moaning about people on benefits despite the fact they have more money than sense, or bankers moaning about high taxes despite the fact that we have high taxes to pay for their fucking mess; we just LOVE to moan. And Giles has decided that women get it way too easy, and they need a taste of just how tough it is to be a man.
While sexism from men is the outstanding social crime of the modern world, women can say absolutely whatever they like about us.
For make no mistake: sexism is alive and well in this country and applauded in all quarters — as long as it is practised by women. And they are allowed to say the most terrible, terrible things.
Only last week, for example, Jo Brand, the newly crowned Best Female TV Comic at the British Comedy Awards, was on Have I Got News For You and replied to the question 'What's your favourite kind of man, Jo?' by saying: 'A dead one.' Oh, how the audience fell about. And the other contestants, all male, chortled away too.
It's not just Brand, it's all women. 'What do you call the useless flap of skin attached to a penis?' they joke. 'A man!' they all reply, and clink their chardonnay glasses and chortle till dawn. How on earth did this get to be OK?
It's just mad isn't it? The way Jo Brand cavorts around saying men are useless in comedy gigs, but we can't say sexually derogative comments about women in a professional environment. What has this world come to? I long for the days when I could sexually harass 'da birdz' at work and not worry about the PC police turning up and telling me what i can and can't do. Oh those days…
The great lie. All men want is sex. Not so. If anything, it is women who think only of having it off. Girls on average lose their ­virginity much younger than boys and have more sexual partners in youth. 
As a teenager, I was ­terribly shy about sex and yet girls were trying to do it with me all the time. I used to run, literally run, from their bedrooms when they tried it on. And yet women are allowed endlessly to harangue us with our supposed lechery.
Right, so all women are sluts and Giles Coren is a sex god. Have I entered some sort of other dimension here? Am I really reading this utterly self- absorbed, narcissistic tripe.
Women are far meaner, more brutal, aggressive, small-minded, jealous, petty and venal than any man. 
If women ruled the world ­countries would be invaded because 'she's always been jealous of my feet' and because 'she looks down on me for going out to work'. 
Millions would die, torture would increase. If women ruled the world there would be carnage.
Seriously, Giles; You're a pathetic wind-up merchant. Just fuck off. If I were him, I 'd be praising any religion going that his Dad was Alan Coren, who's contacts he could use to carve himself out a career as a no-mark media personality, because otherwise that man would be selling fast-foot from a motorway caravan.
This whole saga has been used as an excuse for people to claim 'well it's one rule for women, one rule for men'. No. It's. Not. You want to know the difference between Jo Brand, Loose Women and Gray/Keys' statements? Loose women and Jo Brand are comedy vehicles looking for laughs. There's nothing personal about it, it's mainly comprised of 'men are a bit shit aren't they, the way they get drunk and don't do enough round the house' *CLAP CLAP CLAP*. What Keys and Gray said was that a woman would be unsuitable for her job because of her gender. If you cannot see the difference between the two examples, then, well, I give up.
(Giles seen below in his preferred era of the 19th Century)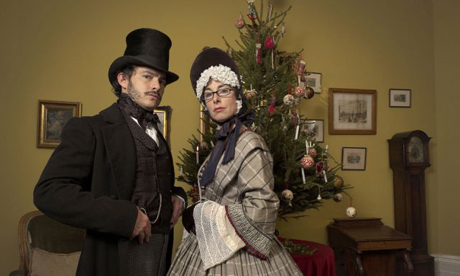 ?
Tweet